Description
Formed in 2004, Carnival Australia is a branch of Carnival plc, and is the backbone of the cruise industry in this region with the P&O Cruises brand sailing from Australia since December 1932 when the P&O mail ship, Strathaird, embarked on a five-day cruise to Brisbane and Norfolk Island.

Carnival Spirit is nearly the length of three footy fields and 12 decks tall of things to do, see, taste and try. Whether you're after an action-packed holiday or just want to relax and unwind, you can create the type of cruise holiday you want.
From the waterpark, mini-golf, two-deck fitness centre, jogging track and sports court to the Serenity area, day spa and pools and spas, there's truly something for everyone.
You'll be spoilt for choice with tons of dining options from four restaurants including an Outdoor BBQ and with 16 bars and lounges to choose from featuring live entertainment and shows, you can do so much or so little on board Carnival Spirit.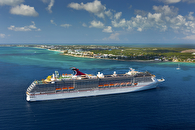 Launched
8th January 2002
Tonnage
88,500
Length
963 feet
Total Crew
930
Occupancy
2,124
Rating
stars
Legends are made, not born, and this ship certainly lives up to her title. Cruise on Carnival Legend and experience a vacation that'll go down in your family's history books — sailing soon to amazing and historical ports across Europe.

Get a sense of the fantastical aboard this ship that pays tribute to some of the world's greatest legends throughout the ages. Take a dip in the Camelot and Avalon pools, wish for magic at Club Merlin Casino, and taste something savory at Truffles Restaurant. There's more than one way to dine at Lido Deck's Unicorn Café, and at The Golden Fleece Steakhouse, the great multi-course meal is not a myth.

Music lovers who go for the classics will love both Satchmo's Lounge and Billie's Piano Bar. Kids will tell and re-tell their tale of their favorite vacation, spent hanging out and meeting new friends at one of three supervised youth areas. And adults can get lost in a good book, or just one another's company, at the legendarily kid-free Serenity Adult Only Area… and then dance the night away at Medusa's Lair Dance Club.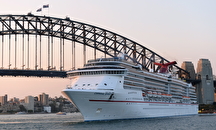 Launched
1st January 2000
Tonnage
88,500
Length
960 feet
Total Crew
930
Occupancy
2,124
Rating
stars
This is the Super Liner that introduced Spirit-class sailing and such innovations as the two-level promenade and the reservations-only supper club. Among her outstanding features is greater speed, which makes it possible for you to visit destinations that would take other ships 10 days or more. Also remarkable is that 80% of her staterooms have ocean views, and of those, 80% have balconies, so you can admire that panoramic scenery from the comfort of your own private stateroom.
It's hard to tell which onboard space best represents Carnival Splendor — they all seem to hint at the amazing time you're going to have. El Morocco Lounge hosts comedy shows, musical performances, karaoke and more… and wears its 1930s namesake clearly on its nameplate. The words "Royal Flush Casino" incite visions of winning, while our onboard jazz club — The Cool — simply says it all without saying a word. And Fahrenheit 555 Steakhouse can be found not only at the height of elegant dining, but at the actual apex of the ship.

If you like your fun to flow, there are options aplenty. If you list "splishing" and "splashing" among your favorite things to do, there's Carnival WaterWorks. Those into sitting and sliding are invited to try the all-new Green Lightning thrill-slide. How about floating or swimming around? Carnival Splendor has pools all over the place, including the midship pool featuring a retractable roof that makes any day a pool day. So whether you splish or splash, you'll find hydro-excitement galore.

If getting up and making the crowd go wild with your dance moves is your idea of a good time, Lip Sync Battle: Carnival is our idea of a great idea. Or if relaxation is more your thing, Serenity Adult-Only Retreat is more your place. Or if you're looking to take relaxation to the extreme, direct your attention to the Cloud 9 Spa, featuring more (and better) ways to kick back than just about anywhere else, on land or at sea. You haven't lived until you've relaxed in a Thalassotherapy pool, or chilled — so to speak — in a dry heat chamber.
Action Packed
We might be gently easing our way through the big blue, but that doesn't mean you can't rev your engines every day you're onboard!

These are just a tast of the 40 (yes, four zero) different activities to choose from every day; being active has never been so much fun!

Fitness Centre
Get your blood pumping in our two-deck fitness centre; with classes for everything you need to burn, firm and sculpt, as well as an outdoor jogging track with incredible 360° views.

Water park/Swimming pools
There's always room in your holiday for an adrenalin-pumping waterslide; that's why we've got two. Strap in for the curves and swerves of Carnival's Twister Waterslide™. or take the ultimate challenge with a 10-metre almost vertical drop on Green Thunder - they'll hear you scream all the way to Fiji!

SplashZone lets the kids dive into a world of adventure, with a wet and wonderful array of fun including mini racing slides, spray and splash playground and even a giant tipping bucket for wipe out sized drenching!

If a relaxed float or a few serious laps are more your thing we also have three swimming pools to cool off in.

Sports court and jogging track
Dodgeball, volleyball, touch footy and cricket - you can't help but have a ball! Missing your running shoes? Give them a treat with an everchanging 360 view!

Mini-golf
The game might be mini, but the views sure aren't!

Let us entertain you
If there's one thing we know how to do on Carnival Spirit™, it's how to have a great time. So when you're ready to let your hair down, there's no end to the entertainment options you can choose. With 16 bars and lounges, there's always something going on.
Camp Carnival
Once your kids discover Camp Carnival, they'll never want to leave (seriously!). We've heaps of activities designed for children in three different age groups: 2 to 5 years, 6 to 8 years, and 9 to 11 years. Our youth program staff all have education or childcare experience, and are there to make sure that everyone is having fun. When it's mealtime, kids get their own menus, with faves like pizza, chicken nuggets, and more. When the sun goes down we offer Camp Carnival Night Owls (fees apply) so kids get to stay up late having fun, while their parents do the same!.
Onboard Fun
You're on a ship that's nearly the length of three footy fields and every square metre of it is packed with things to do/see/taste/try.

Welcome to your new home away from home. How about a tour? You'll notice the sports court, a choice of swimming pools and an outdoor jogging track. Over there you'll find our Spa Carnival™ and two-deck fitness centre, the primo destinations for aromatherapy massages and workouts with amazing ocean views.
Your Choice Dining
Your Choice Dining - great food and full table service in the main restaurants. Whether you want breakfast, lunch or dinner, join us for an awesome atmosphere, delicious food, great service and good times! We also offer Healthy Options selections, which are big in taste but low in fat, sodium and cholesterol. To dine with us, simply request one of the following seating times when you reserve - Early Dining (5:30pm) or Late Dining (7:45pm).

With Your Time dining, you can dine in the main restaurant anytime between 5:30pm - 9:00pm. Guests are seated first-come, first-serve, depending on party size. In most cases, we can set you within 20 minutes, however if we can't, we'll give you a pager so you can relax elsewhere on the ship until your table is ready. Due to the limited number of large tables, parties greater than 10 may need to be sat at different tables and in different areas of the dining room.

If you prefer your meals outside of the dining room and more low-key, you're in luck, because there's awesome options for casual dining:

- At our buffet style food courts you can grab a variety of delicious items and sit anywhere you like.
- The Pizzeria on Spirit - it's open 24 hours a day so it's perfect for those 2 a.m. cravings!
- Fat Jimmy's C-side BBQ on Spirit