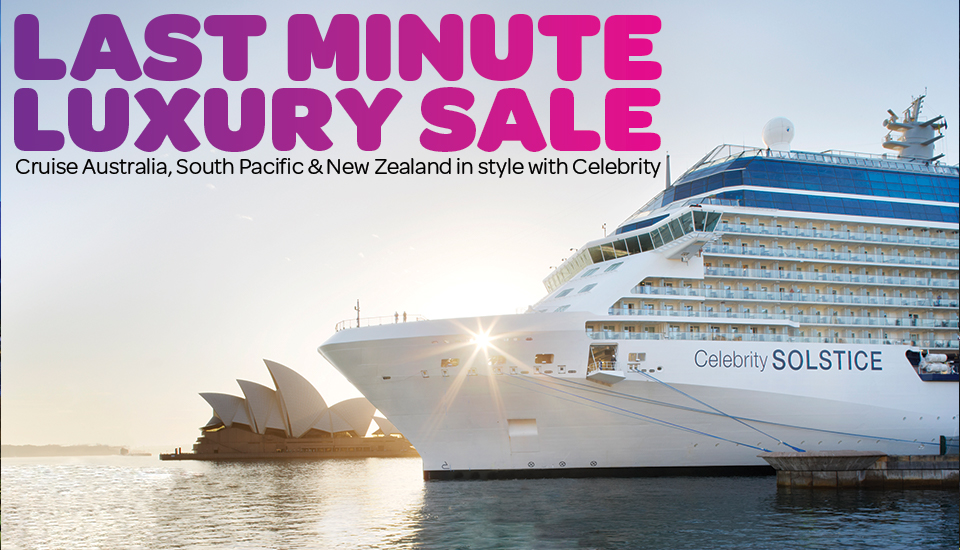 Welcome to our Exclusive Celebrity Solstice Cruise Deals.
Celebrity Solstice is one of the highest rated ships to cruise from New Zealand and each summer she returns to our waters.
Lucky for us she offers regular cruises that start or finish in Auckland.
HOOT Cruises Exclusive Package Deals combine these one way cruise deals with flights to create round trip packages,.
All our Celebrity packages include the onboard gratuities so there are no nasty surprises
Don't delay, click the date you prefer now to check space and grab yourself some Solstice luxury.

Solstice Coastal Voyage
2nd Dec 2019 ABOARD Celebrity Solstice
CRUISE LINE: Celebrity Cruises
REGIONS: Australasia, Pacific
Auckland > Bay of Islands > Tauranga > Wellington > Akaroa > Dunedin, New Zealand > Dusky Sound > Doubtful Sound > Milford Sound > Hobart > Sydney, Australia
WHAT'S INCLUDED
AA Smartfuel offer
Save $50c per litre on fuel with every cruise booking made online via the Hoot Cruises website*
*Redeemable in a single fill up to a maximum of 50 litres. Correct AA card number must be provided at time of booking